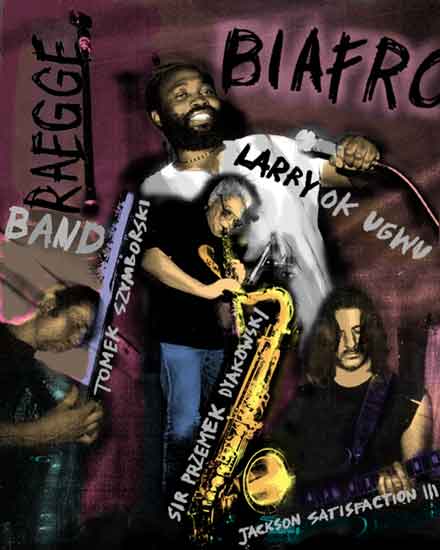 Biafro

THE BIOGRAPHY
BiAFRO is a group formed in the year 1996 in the city of Sopot Poland by two very experienced musicians
that have been working together for the past 18 years.
LARRY OKEY UGWU: Country of origin Nigeria. One of the most experienced underground musicians in the
northern part of Poland. Ex member of such groups like Polish ham, International Roots Reggae Band,
Sun's Vibration. Larry has taken part in a lot of musical projects in the country, co-operating with
such musicians like; Tymon Tymański, Andrzej Smolik, Leszek Możdżer, Leszcze, Przemek Dyakowski,
Wojtek Staroniewicz, Erszkowski Michał, Erszkowski Jan, Mikołaj Trzaska, Robert Usewicz and many others.
Larry is also the founder of the group Ikenga Drummers and the creator of Elelekulele music.
He is equally an actor of the musical theatre in Gdynia.
JACEK STANISZEWSKI: With a doctorate degree in fine arts, Jackson as he is usually called by friends,
is presently a lecturer at the graphic department of the university of fine arts in Gdansk.
Ex member of such groups like; The Plemniors, Galago Band, Int. Roots reggae Band, Sun's Vibration.
A very fine musician, that has succeeded in creating and defending a style of his own. Jack is the founder
of one of the most radical musical formation in the northern part of Poland. "Chlupot Mózgu." He enjoys
seating by his computer, and composing his music.
Other members of the group are; TOMASZ SZYMBORSKI, "Kwajah" as fondly called, a young talented musician that
plays as if he was born with a bass guitar on his hand. Despite Tommy's young age, he has come a long way
through a well- groomed musical carrier. Sir PRZEMEK DYAKOWSKI, the spiritual father of the group,
a mentor and an inspiration to all members of the group. Przemek is a legend today in the Polish jazz family.
The founder of the popular Sax Club in Gdynia, Dyakowski has played very good roles in building the
carrier of many successful musicians in this part of Poland. In- short, a living legend.
FILIP GAŁˇZKA: The youngest member of the group. Filip is a talented drummer born into a musical home.
He has been playing on the drums as far as he can remember. He has taken part in many musical projects.
Bi.afro plays experimental music that is a blend of Roots Reggae, Afro-rock, Funky Trans and Voo Doo vibes.
The group has performed in lots of prestigious musical festivals in Poland and abroad. There live show is
an explosion of energy coupled with a combination of theatrical might and musical guts. The front man
Larry is a power house whose charismatic approach to the audience makes the spectators feel like in the
seventh heaven. Bi.Afro is a five man band.

LARRY - Lead vocals, Congas, Percussion
JACKSON - Lead guitar.
KWAJAH - Bass guitar.
SIR PRZEMEK DYAKOWSK I- Saxophone.
FILIPESCU - Drums.